The AV186+ is a compact, high-speed color duplex scanner. Designed to scan both documents up to legal size and plastic ID cards, the AV186+ can be used to capture all the information you need in a fast, and reliable performance.
The scanner's straight paper path provides smooth and reliable paper transmit and less document jam. It also ensures thicker paper up to 400 g/m² and embossed plastic cards up to 1.25mm can be transmitted smoothly.
With the 75-page auto document feeder(75g/m²), the AV186+ offers fast scan rate of 30 pages per minute for single-sided documents and 60 pages per minute at 300 dpi for double-sided documents.
For ease of use, nine scanning presets can be custom programmed for different applications. The entire scanning process is then as simple as selecting a preset and pressing the simplex or duplex scan button. Tasks such as scanning, and storing or sending the images to application become completely automated processes.
The AV186+ is also equipped with various innovative features such as automatic color detection, automatic blank-page detection, skew correction and ultrasonic multi-feed detection to catch overlapped pages. These features help users to digitize document effectively and efficiently.
New Generation of High-Speed Scanning Solution
Avision is pleased to announce the new generation of sheet-fed duplex scanner. The small footprint, compact and reliable TRUE CCD scanner is your perfect scanning solution for front desk service, document distribution, business card management or digitalizing family photos and invoices. With the ability to scan mixed paper size document with thickness up to 1.25mm plastic cards, the AV186+ offers unparalleled performance and sets a new standard in card scanning.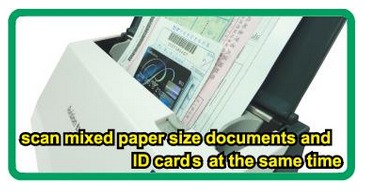 Faster scan speed
The AV186+ delivers fast scan rates of 40 pages per minutes in simplex and 80 images per minutes in duplex at 200 dpi color or 30 pages per minutes in simplex and 60 images per minutes in duplex at 300 dpi color mode, providing a truly breathtaking digitalizing experience.
Long Page Scanning up to 118"
The reliable paper feed system also lets you scan unusually long document up to 3 meters (118") at 300 dpi in color, grayscale, or black and white. This is ideal for scanning engineering diagram, insurance bill, health record or other special documents.
New TWAIN driver support
AV186+ incorporates the latest TWAIN driver with new features and enhancement such as the ability to adjust sensitivity of dynamic threshold, document/photo color matching, custom color dropout, automatic multiple cropping, intelligent multi-feed, reduce despeckle, image count, digital imprinter, and transport timeout. We are committed to improving the TWAIN driver continuously to enrich your scanning experience as never before.
What we have bundled
The Avision AV186+ scanner comes with TWAIN and ISIS drivers, exclusive Avision Button Manager, AVScan and PaperPort 14SE.
Avision's Button Manager
For typical users, Avision's Button Manager provides ease of use with 9 pre-configured file formats and destinations. For advanced users, Avision's Button Manager allows full customization. With a simple touch of the button, users can conveniently scan and send images to E-mail software, specific folder, favorite software application, your printer, or convert into searchable PDF format!