Fast and reliable duplex scanner with large LCD screen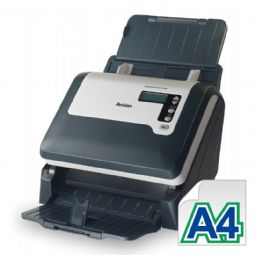 Speed and reliable. It's your top priority. You don't have time fiddling with the scanner. You just want to get the job done - fast, with bare minimum amount of time and effort.
Now you can, with the Avision AV280, scan at blazing speeds of up to 70 pages per minute or 140 images per minute at 200 dpi in either black and white or color mode. The Avision AV280 is not only fast but it is also more reliable, with a 8,000 recommended daily duty cycle. The Avision AV280 can handle up to 100 sheets per batch operation and obtain high image quality based on the advanced CCD optical scanning technology at 600 dpi resolution.
Video for AV280
A Large LCD Display
The AV280 is easy to use through the enhanced LCD display which allows 128x 32 dots (16*4 characters). By selecting your destination and pressing the "Scan" button, the scan can be done and the scanned image can be sent to your specified destination application such as e-mail, printer, or your favorable image-editing software application. Up to nine frequently used scan settings and destinations can be preset for different scanning needs.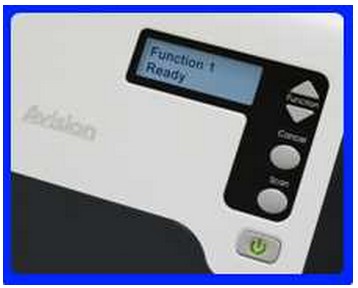 Reverse Roller Enhances Feeding Reliability
Designed with the innovative reverse roller for advanced paper separation capability, the AV280 delivers outstanding feeding reliability and operating productivity by effectively reducing the risk of a multi-feed or paper jam.
Paper Protection Technology
The advanced Paper protection technology protects valuable paper from being wrinkled or torn by halting the scan process once a skewed page is detected.
Ultrasonic Multi-Feed Detection
With the built-in ultrasonic multi-feed detection capability, the scanner allows you to set overlapped paper by detecting paper thickness between documents. When multi-feed is detected a warning message will be prompted.
Features
Fast scan rate up to 70 ppm/140 ipm (200 dpi in color, gray, or B&W)
A large LCD display (16*4 characters)
Reverse roller technology delivers outstanding feeding reliability
Robust 100-page automatic document feeder
Press and scan to cloud servers via the bundled software Button Manager V2
Press and paste your scanned image directly to your text editor via the bundled software Button Manager V2
Earth-friendly LED technology
Supports 118" (300cm) long page scanning
Auto power off setting
AV280 Specifications
Technology
Color Charged-CoupledDevice (CCD)
Document feeding mode
Auto Document Feeder (ADF)
Light Source
LED
Optical Resolution
600 dpi
Scanner Modes
Halftone Pattern: Dither and Error Diffusion
Grayscale: 16 bits input, 8 bits output
Color
48 bits input, 24 bits output
Memory Size
256MB SDRAM
Dimensions (WxDxH)
306x268x258 mm (12x10.6x10.2 in)
Weight
6.5 Kg (14.3 lbs)
Interface
USB 2.0
Power Consumption
Operation: < 47 W
standby: < 13 W
Power saving: < 2.9 W
Acoustical Noise
Operation: < 50 dB
standby: < 45 dB
Recommended Daily Volume
Up to 8,000 sheets
Features
Ultrasonic paper jam detection: Yes
Long Paper Mode: 118 inch (300 dpi @ color simplex)
Card Scan: Embossed card (Thickness 1.25mm)
Scan Size
ADF Minimum: 74 x 52 mm (2.9 x 2 in)
ADF Maximum: 216 x 356 mm (8.5 x 14 in )
ADF Capacity: 100 sheets
Paper Thickness and Weight : 27~413 g/m² (7 to 110 lb)
Scanning Speed
B/W @200dpi, A4: Simplex: 70 PPM; Duplex : 140 IPM
B/W @300dpi, A4: Simplex: 60 PPM; Duplex : 120 IPM
Color @200dpi, A4: Simplex: 70 PPM; Duplex : 140 IPM
Color @300dpi, A4: Simplex: 60 PPM; Duplex : 120 IPM