AV620N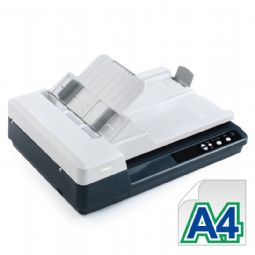 This is a compact and affordable network document scanner.

Combining 50-page auto document feeder with A4 flatbed scanning, the AV620N is an ideal choice for workgroups with a demanding work load and limited buget.

The slim flatbed design is made possible by CIS technology. With true 600 dpi optical resolution, the scanner is able to capture the finest detail. Operation of the AV620N is simple with Avision's exclusive software application, the Button Manager. Users only needs to properly place the document on the scanner, then press the Scan button. The scanning task can be finished within seconds. Best of all, the scanned image can be directly sent to your desirable destination applications.
Product Details
The Avision AV620N
with Automatic Document Feeder/Flatbed is a compact and affordable productivity scanning solution delivering 25 pages per minute and 50 images per minute in 300 dpi resolution. The combination of high productivity and affordability makes this series the obvious choice for reducing the total cost of scanning.

Network scanning
AV620N with network interface can be shared by all users within a local area network. AV620N isimplemented with network port to be used as a network scanner.

Start auto scan without connecting to a computer
The AV620N is enhanced with the innovative feature to scan to USB flash drive. By inserting a USB flash drive into the USB flash drive port, the AV620N allows you to start automatic scan without connecting to a computer and save the scanned images to a USB flash drive in predefined settings. For example, by selecting "USB Disk" and "Document" or "Photo" on the control panel, the scanned image can be saved in 300 dpi, gray, A4 size, pdf file format or in 600 dpi, color, 5"x7", and jpeg file format.

A Large LCD display
The AV620C2+ is easy to use through the enhanced LCD display which allows 16*2 characters. By selecting "USB Disk", the scan can be done automatically. By selecting "PC" and then your desired profile, the scan can be started and the scanned image can be linked to your desired destination application such as e-mail, printer, or image-editing software application. Up to nine frequently used scan settings and destinations can be preset for different scanning needs.

Compact and earth-friendly design
The AV620N is compact and earth-friendly in design since it uses CIS (contact image sensor) technology which requires smaller space and the LED lamp as the light source. The LED lamps are lower power consumption and are designed to last for the life of the scanner, and their bright light renders true illumination to enable accurate color imaging.

User-Replaceable parts
With easy-to-change and easy-to-clean parts, ongoing routine maintenance can be handled by scanner users. This reduces the need for service calls and allows you to boost scanning efficiency.

Advanced settings via TWAIN driver
For advanced users who wish to control scan settings and obtain the best image quality, the Avision's AV620N is able to scan through Avision's advanced TWAIN user interface from TWAIN-compliant software application. Avision's TWAIN user interface provides various useful features to enhance your image quality including auto crop and deskew, auto color detection, color matching, color dropout and so on.

Powerful bundled software applications
The Avision AV620N comes with TWAIN and ISIS drivers, and is bundled with a suite of powerful software applications that include Avision Button Manager, AvScan , and PaperPort 14SE. With Button Manager, you can scan to searchable PDF, JPEG, BMP, or GIF file format, save to folder on your computer, and scan to e-mail, printer, or other application with a press of a button. The AVScan and PaperPort are highly effective image processing and document management software that helps you streamline your task more efficiently.

AV620N Specifications
Document feeding mode
Flatbed and ADF
Technology
Contact image sensor (CIS)
Light Source
LED
Optical Resolution
600 dpi
Memory Size
128MB DDR2
Scanner Mode
Halftone Patten: Dither and Error Diffusion
Grayscale mode: 16 bits and 8 bits output
Color mode: 48 bits and 24 bits output
Dimension (WxDxH)
17.8x12.8x9.3in (453x324x237mm)
Weight
9.5 lb (4.3 kg)
Scanning Speed
25 PPM (A4@200 dpi, B/W)
25 PPM (A4@300 dpi, B/W)
20 PPM (A4@200 dpi, Color)
20 PPM (A4@300 dpi, Color)
Interface
USB2.0/RJ-45
Power Consumption
Operation: < 15 W
Stanby: < 6 W
Power saving: < 2.9 W
Acoustical Noise
< 40 db (Standby)
< 58 db (Operating)
Recommended Daily Volume
Up to 2500 sheets
For pricing, please call 510-739-2369.